3 in 1 Face Lifting Fat burning Ultrasonic Body Massager
EMS Infrared 3 in 1 Ultrasonic Cavitation Slimming & Beautifying Cellulite Remover Massager Machine is Effective Slimming Solution!
Non-Invasive And Effective! Health Benefits Are Endless! Best Ultrasonic Cavitation Slimming Device Machine for Home Use!
 Promoting circulation, by losing fat and cellulite, you free up your skin for better blood circulation which in turn becomes beneficial to your skin
 Ultra sonic Clean Out Function

 

- provides a cleansing of toxins deep in your skin, discharging blackheads and preventing acne flare-ups
 Ultra sonic Deep Lead In Function

 

- Increases skins internal secretions mobility, making your skin's natural nutrients work more effectively
High quality portable machine compact, easy to carry. Medical stainless steel probe, durable.it has no heat function, it can not get hot.
Ultra sonic Compact Skin Function - Compacts and moistens the skin, yep that means smoothing down eye bags and wrinkles! All that fat gets burned by the iLift™. 
Ultra sonic Fat Burning Function

 

- Bye bye fat! The Fat burning function will slim the face/body, getting rid of and preventing cellulite - meaning your beach ready in no time!
As if that wasn't enough, the

 

iLift™ provides a very pleasant massage-like effect.

 

Yeah, it's time to feel truly pampered.
Target problem areas with Ultrasonic Cavitation Body Slimming & Beautifying...
FEATURES:

EMS + Infrared + Ultrasonic Technology
Effective ultrasonic facial and body beautifying massager.
EMS treatment for skin and body slimming. Skin rejuvenation infrared heat therapy device.
Enhance skin texture, anti-wrinkle, helps fight fatty areas, tightens.
Quickly and effectively reduce and give relief from severe chronic back pains, another sort of body aches.
Regulate internal secretion and accelerate consuming of fat, realize the dreams of body slimming.
Mini and stylish appearance, convenient to carry, easy to use.
For both facial & body use.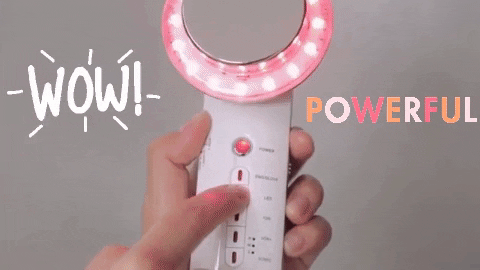 Clinically Proven Technology For:
✔️ Cellulite & Fat Reduction
✔️ Turkey Neck & Muffin Top 
✔️ Love Handles & Saddlebags 
✔️ Effective for Stubborn, Problem Areas
✔️ Release Fatty Toxins in Cells
✔️ Non-Invasive Body Contouring Technique 

✔️ 
Post-Pregnancy Slimming & More
 Suitable for firming thighs, arms, waist, hips,tightening the chest after delivery.