Home office desk Air Cooler Personal Space Cooler Mini
Air Coolers a personal air cooler, humidifier, and purifier all in one. Does it work as advertised? Here is our Arctic Air review. Say goodbye to the heat easily with this personal air cooler which could be placed anywhere and it does save money on your bill.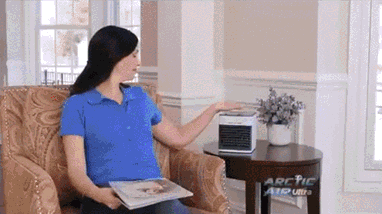 It is a handy device that you might see on late-night infomercials. This handy device functions as a personal air conditioner and is incredibly easy to use. When first shown on television, the unit was so popular that more than 500,000 units sold in just six months. It uses an evaporation method that combines the water you use inside with a powerful design to pull heat from the surrounding air and immediately make the area around you feel much cooler. You can use the cooler in any room of up to 45 square feet to enjoy the maximum benefits, though you'll find some relief when you use the unit in a larger room too.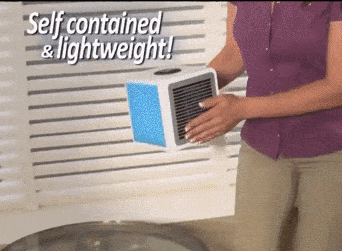 Staying cool in the middle of the long and hot summer is hard. While you can run a window AC or the AC in an HVAC system, you'll find that your utility bills skyrocket. Ceiling and box fans are a good alternative, but they just won't help you stay as cool as you want. The Arctic Air Personal Cooler is a nice little alternative that is affordable and won't lead to an increase in your electric bills. With our Arctic Air review, you'll get the lowdown on this personal cooler.
The Arctic Air uses a process called evaporation, which lets it work more effectively than traditional AC units can. It has a tank inside that you will with water and a filter. When you run the machine, it will pull warm air in through the back and send it through the filter. That air will mix with the water inside, which cools it down before it exits the appliance. It can run for up to eight hours without the filter freezing or the water inside getting too hot. The Arctic Air does three separate things:
This handy tool cools the air that touches your skin to help you feel more comfortable. It also purifies the air in your home. If you keep feeling sick and struggling with symptoms of the flu or common cold, it might be due to the particles in your air. Those particles can also affect those with asthma and other breathing issues as well as those with respiratory problems. The Arctic Air cleans the air that you breathe as it moves through the inside. You'll also find that it works as a humidifier to add more moisture to the air around you. It does all three of these things at the same time.
Benefits of Using a Arctic Air