Multifunctional New Diamond Microdermabrasion Beauty Machine Skin Peeling
Make your skin looks younger and brighter with the personal home use facial beauty machine.
Microdermabrasion – it's more than a facial and yet still a non-invasive lunchtime procedure!
It sloughs off the dead and dull surface layers of the skin, stimulates an increase in collagen production and cell rejuvenation. Many clients see dramatic improvements in the tone, texture and colour of the treated area after just one treatment.
How to use
3 x Diamond Wands + 9 x Diamond Tips: Small Size : Mainly for the eye around and sensitive parts. Middle Size : Mainly for facial part. Large Size : Mainly for body ,hand or foot ,other large areas. 2 x Spray Bottles: It is equipped with 2 hydrating spray bottles, which can be filled with essence diluent, after facial operation to hydrating, and supplementing the skin with nutrients. 3 x Glass Tubes: For facial massage and blackhead removal.
Functions :
1. Clean skin stratum corneum,minimize invasive scar 2. Clearing blackhead and acne 3. Remove ages spots, wrinkles, hyperpigmentation, stretch marks 4. Improve dull skin and smooth skin, shrink pores, repair skin cells 5. Assit absorbtion of natural nutrients 6. Skin recovery after aggressive treatment 7. Increases strength of collagen and elastin fibers in the skin 8. Reduces redness, scar, wrinkle, inflammation and acne 9. Improve oily/dehydrated skin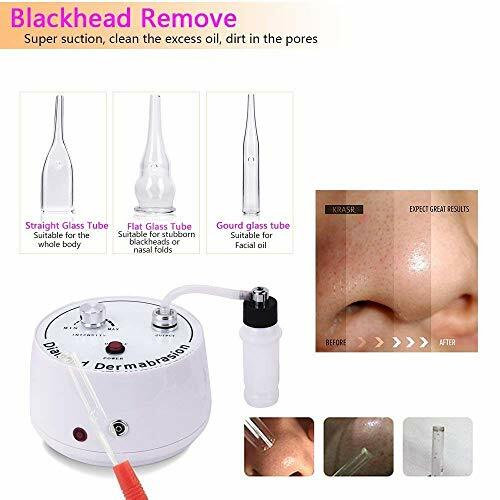 Package includeds:
1 x Diamond Dermabrasion Machine 1 x PVC vacuum hose 8*5 3 x Diamond Wands 9 x Diamond Tips 2 x Spray Bottle 3 x Glass Tubes 2 x Cotton Filter 1 x Power cord 1 x User Manual