Titanium dermoroller microniddle roller for face 540 derma roller microneedling
Powerful Design
Our premium derma roller needling design is carefully constructed to make sure you get the best results possible. It takes as little as 60 seconds to use and will help you reach your goals fast.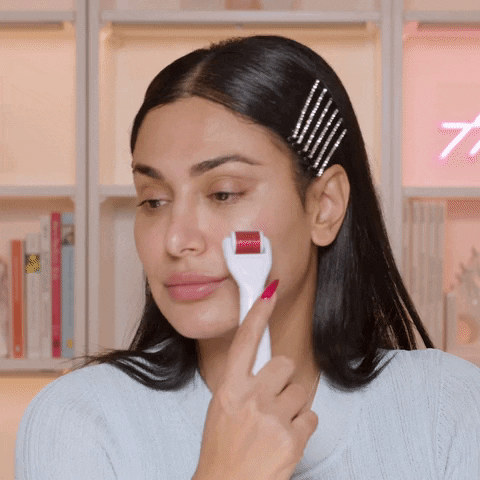 KEY FEATURES:
Safe and Painless - 0.25mm microdermabrasion needles are easy to use and don't hurt.
Superior Quality - Made with durable 540 pure-grade titanium microneedles ensured to last longer.
Ergonomic Handle - Allows for ease and comfort while rolling across the skin.
Anti Slip Grip - Provides stability and control.
STEP 1
Cleanse your face thoroughly and sanitize the microneedle roller before you begin.
STEP 2
Begin micro rolling on the desired area 4 - 8 times in a vertical, horizontal, and diagonal direction.
STEP 3
Apply your favorite serums and creams right after derma rolling.
Drastically decreases the appearance of acne scars, large pores and hyperpigmentation, dark spots, fine lines and wrinkles.

Increases the effectiveness and absorption of topical products by up to 500% allowing them to reach their max potential.

Micro exfoliates away dead skin cells leaving a healthy radiant glow.

Stimulates collagen production and new skin cells.

Creates the appearance of plumper, firmer skin.

Length (0.25mm) recommended by dermatologists for at home use.

Treatments take as little as 60 seconds.

Reduces the amount of money you'll have to spend on other skincare products by maximizing their effects to the full potential.


You can expect brighter, healthier looking skin in just a few days with minimal effort.