New Pain Relief Ergonomic Stimulator Neck Massager
A RELAXING MASSAGE AT THE COMFORT OF YOUR HOME!
The Electric Pulse Neck Massager can massage human acupoint, which can balance the nervous system, improve the oxygen supply, microcycle and the nutrition status of the tissue cells. The massager adopted U shape, is in accordance with the streamline and ring-type design of human neck cervical. Also, the neck strap can be adjusted to 160° which you can adjust freely.
This device has 6 modes of transferable and 10 kinds of adjustable intensity. You can choose any mode or intensity according to your needs. It can stimulate repeatedly nerve acupoint to promote metabolism, relax muscles and eliminate soreness. Using electrode pads, it combines a variety of massage techniques in traditional Chinese medicine; promoting blood circulation, massage coverage more widely.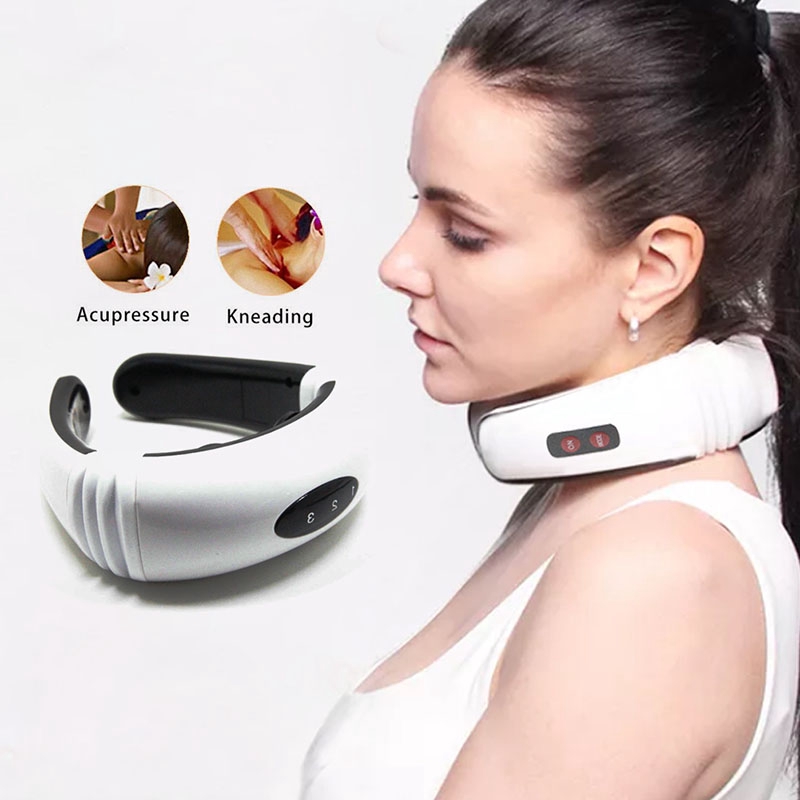 BENEFITS:

✅Calms neck pain and relaxes points of stiffness caused by vertebral alteration
✅Uses advanced physiotherapy techniques to relax muscles through electro-stimulation

✅Promotes blood circulation to eliminate hematoma and inflammation, and improve insufficiency

✅Six different massage modes: vibration, pressure, electro-stimulation, shiatsu, pulse and automatic. 

✅10 Levels of Intensity Adjustment 

✅Ergonomic design fits around any neck

✅Lightweight and Portable
 【3D Floating Electrode Pads】
Perfectly and all-dimension fit neck, magnetic technology design to promote blood circulation.
【Ergonomic Design】
Elastic arm with skin-friendly silicone outer material fits for the natural curve of neck, surrounding and more gently caring for neck.
【External Electrode Pads】
2 electrode pads can be used for pulse massage by connecting through cable, wonderful for other body parts massaging while enjoying the neck massaging.
【Warm & Pleasant Massage Effect】
With heating up function by pressing the middle button (3 heating gears available) to improve the blood circulation, soothe tired muscles and relieve aches thoroughly.
【6 Massage Modes & 15 Intensities】
6 massage modes (Guasha, acupuncture, Tuina, pulse massage, cupping, and patting) along with 15 adjustable intensities offer various massage enjoyment according to your needs.
【Widely Applicable】
 Suitable for daily neck care, neck relief, and light neck injury and stain.Lightweight and small, so it is space-saving and easy to be carried along, you can use it at home, office and travel, enjoying massage wherever and whenever.
Note:Use wet towel to wet the neck before using to avoid possible sense of piercing pain.
How to use:1) Before use, first wet the skin of the cervical spine with a wet towel, and then put the product around the neck, make the electrode close to the skin of the cervical spine, adjust the position of the product, turn on the host and adjust the appropriate massage intensity and mode.
2) Press [ON/OFF] button to enter the default mode, the default gear position(0 gear).3) Press [M] button to switch mode, 6 modes available.4) Press [+]/[-] button to adjust intensity, 15 intensities available.5) Press the middle button for heating up function. Flash once for low heat, flash twice for medium heat, flash three times for high heat, then press heat to turn the heat off.