Magic Silicone Brushes Bath Towels Rubbing Back Mud Peeling Body Massage Shower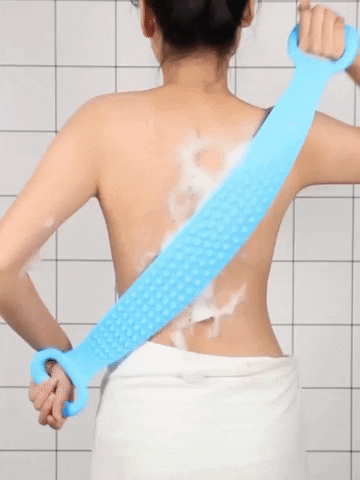 Are you annoyed that you can't reach your back while taking a bath?
✅Clean and scrub with this silicone towel now and keep it clean!
Those hard-to-reach places can sometimes be painful, and now we have the solution. Good cleaning effect.
✅Cleans pores, removes dirt, excess sebum and dead skin, making your skin smoother The double-sided lines with bump design can effectively bring you a cleaning effect.
✅Silicone wipes are dry, greatly reducing bacterial survival Double-sided back scrubber and massager foot / single cleaner shower-cleans, massages and exfoliates the body, cleans your
✅EXFOLIATING BACK SCRUBBER - Exfoliating scrubber and pad for shower. Double sides offers a textured, loofah-like surface that deeply exfoliates.
✅ CLEANSE EASY - The skin on your back needs just as much cleansing as the rest of your body. Our two handled back scrubber lets you get all those hard to reach areas, including your feet and knees. Simply apply your favorite body cleanser to the terry covered side and get to scrubbing!
✅ EXFOLIATE AWAY - It's hard enough to cleanse your back, but exfoliate? No way. At least, not unless you're using our exfoliating back scrubber. Flip over to the exfoliating side to gently slough away dead skin cells. Exfoliate once or twice a week for skin that's smooth,

soft, and happy.