New!!! Beauty Health Equipment Nano Fog Sprayer Body Humidifier Facial Steamer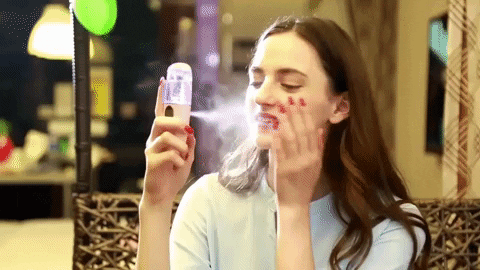 Nano-cold mist for deep moisturizing - Using advanced nanotechnology, it breaks down water into tiny nanoparticles that penetrate deep into the skin, moisturizing without damaging makeup. Ideal for keeping skin fresh, moisturized and elastic. The cool, refreshing mist is also ideal for the body and hair, which can be sprayed on the hair to restore the waves.
This nano mist spray is a handy and portable disinfector perfect for everyday use
It creates a thick mist or fog that you use to disinfect your personal items such as your bag, keys, phone, wallet, and others
Calm and refreshing skin - Use a mask and facial massage to stimulate the skin after sunburn. The pores open or the skin feels pain and itching. Open the product for 60 seconds and the skin will recover quickly. In addition, drying can be alleviated due to the heating or cooling environment of the air conditioner.
Portable design - designed to in a mini size in a handbag or pocket. Carry it anytime, anywhere, keep your skin moist, suitable for cars, open air, parties, flights, outdoor, shopping malls or anywhere. The 20 ml water tank can be used for more than 8 minutes with a lot of fog. After fully charged with USB, you can use more than 50 facial steams.
Nano Mist Sprayer is intelligently designed and has a compact size compared to traditional mist sprayers so you can carry it anywhere with you especially when traveling! It will perfectly fit your bag, purse, or pocket!
Aside from using it as a disinfectant, you can also use it as a facial mist, a nebulizer, and as a humidifier. Product Material: ABS / Product Size: 30 x 30 x 115 mm / Net Weight: 50g / Packaging Size: 125 x 40 x 43mm. Tank Capacity: 30 ml / Charging Time: 1 H / Battery Capacity: 400 mAh
Package Content:
1 x Nano Mist Spray

1 x Charging Cable

1 x User's Manual