Easy Nonstick Pancake Cooker Egg Ring Maker
  The fast easy way to make perfect breakfast every time!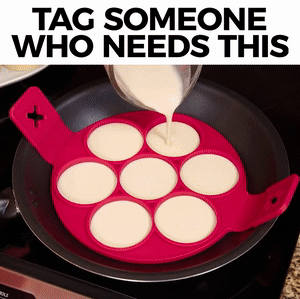 Just place the Pancake Cooker into a preheated pan, add the batter and let it brown. To remove, simply lift and flip. The secret is the non-stick, silicone ring. The side holds the batter to the perfect shape for even- cooking, while the flat, bottom ring supports everything.
 Features stove top safe, silicone and easy flip grips to keep hands away from the heat. Great for cooking eggs, omelets, hash browns and so much more! The Pancake Cooker is dishwasher safe.
Flip Cooker comes in Big Breakfast Style, Hearts, Circles and Flowers.
PREMIUM FOOD GRADE SILICONE - LFGB Approved, BPA Free, and food grade silicone material. so you can use it on a pan to make perfect shaped pancakes.

SAFETY - Toveop safe silicone while the easy flip grips keep hand away from the heat. 

TIME SAVINGS -  Save your precious time with our silicone form because you can prepare up to 7 pancakes at the same time with this extravagant kitchen tool, thus optimally utilizing the entire surface of the pan.
EASY FLIP AND NON-STICK -  New design of small air holes arounded to easy flip and 2 extended ears to take food avoid burnning, flexible silicone

EASY TO CLEAN AND STORE - After use, the silicone mold can be easily cleaned with hot water or placed in the dishwasher. In the wardrobe she takes very little space, because you can stack different forms very well one above the other.